My wife and I don't own a $1000 SLR digital camera. Instead, we have travel cameras that are small and use SD Cards for storage. We have a Samsung we like as well as a Kodak PlaySport that is due to be replaced.  When we travel, we'll take a laptop for emergencies, but almost everything we need to do we can do with our iPads or our phones. Plus, laptops are bulky and heavy.
So in the end, what I really needed was quick and easy way to copy content off SD cards so I could keep taking pictures while on vacation.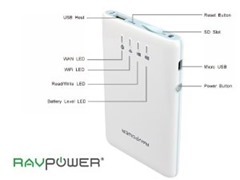 Along comes the RAVPower FileHub Wireless SD Flash Reader USB External HDD / SSD / SDD Reader with 3000 mah battery pack and portable wifi hot spot RP-ED01.
This small device came up on an Amazon search for a bluetooth iPad compact flash reader, and lo and behold it's really a WISP capable, external power, CF / USB hard drive server. For $50. This was beyond what I was looking for.
Note that it is technically a battery pack, but it is so, so much more (Crazy RavPower SEO friendly product name aside).

Let's go through the physical features first:
Power Pack
It's a 3000 mah battery pack. That's enough to put some juice back in your phone in a pinch.
SD Flash Card Reader
It has an SD Card port for reading SD cards up to 64 GB capacity.
USB Port
A regular USB 2.0 port for plugging in a USB hard drive, thumb drive, or even an SSD.
Portable Wifi
This is a killer feature.  You can configure your RD-WD01 to connect to WiFi and then share it to your devices as a personal hotspot.  This is important because it allows you to surf the web, get email, and stream music while accessing the storage.
Ports
The only other port on this device is the micro USB charging / power port on the side. Now this brings up an important point. This unit does NOT come with an AC adapter, so it will need to be charged via a USB port. If you have an AC USB port, you can use that or you can purchase a RavPower USB charging port. For reference, this small charger has two USB ports. This can be handy if you have a USB hard drive that uses a split USB cable for power/data. This way, you can plug the data into the RP-WD01 and the other into the charger.
There is also a factory reset button (see above picture).
LEDs
There are four LED indicators. Power, Read / Write, Wifi, and Internet. Power will flash while charging, and Internet / Wifi will flash while connecting / starting,
All this is great, but what can I do with this?
First, I can take the the SD Card from my camera and insert it. Then, I can access the contents and look at them with my iPad. I can move the files to my iPad, as well. This frees up space and lets dropbox copy the images home on the fly or so I can share them.
However, I can also move the pictures from my iPad to any attached storage. With an attached external hard drive, that gives me plenty of space to store the various pictures and videos for later review.
RavPower has an app called AirStor for both iOS and Android that lets you manage the device and browse the storage. They've had various issues with their app, so your mileage may vary. Their latest update seems to have fixed some issues with passwords, but it's still not perfect. However, the app isn't necessary to use this great device.
It can be managed from a browser (10.10.10.254), and it also presents all attached storage on it's wifi network as an SMB server!
The web interface provides an explorer for access files on the device. In this instance, I have an SD card from the camera inserted as well as Buffalo 500GB portable hard drive.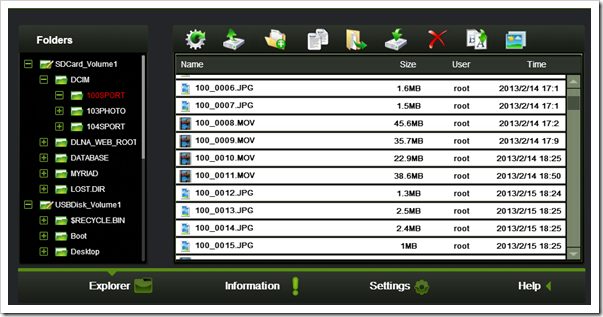 From this interface, the icons are (from left to right):
Refresh
Upload
Create Folder
Copy
Move
Open
Delete
Rename
Open a Photo Viewer
The AirStor app will stream media from the device to multiple clients. With an external hard drive, I can rip my DVDs to electronic copies and have content to watch while traveling! You never know when you might end up having to sit in your room while it pours rain or in an airport with hours to kill.
Streaming Server
I RIP my DVDs then use a CUDA capable converter to convert DVD videos to MP4 for mobile viewing. The AirStor app will stream them from the RD-WD01 on the fly, but you can use other apps that can access SMB shares to stream, too.
Here are some iPad screenshots of the AirStor app in action:
Note, streaming means which device you're using. An iPad can't stream AVI files, for example.  From some of the reviews on Amazon, you can stream to multiple devices at once with no problem. On Android, I use Solid Explorer and MX Player. It streams all my content with no problems on my Galaxy S4.
I have Dish Network, and they have a feature where I can transfer DVR'd content to my iPad and watch it later. Those use a ton of storage on my iPad, but with this device, I can bring a lot of content with me.
WISP (Wifi hotspot)
For sharing the Internet, you can use the AirStor app to connect it to a Wifi network or you can do it through the web interface. This is perfect for hotel rooms! You can connect this device to your portable hard drive and then share the hotel's WiFi to your personal hotspot. When you get back from the hotel, you can move pictures from your device to an attached hard drive.
Possibilities!
According to one Amazon reviewer, this small device is running a tiny embedded linux called BusyBox. If RavPower ever lets users know how to update it, it could open all sorts of possibilities. I have a small script I wrote that runs on a computer at home that automatically pulls images from dropbox and moves them to a folder where they are backed up to the cloud. If I could put dropbox into this small device so it would synchronize images automatically, that'd be great!
In the end
With this device, I can bring a respectable collection of content from my DVD library without having to worry about storage. I can free up space on my cameras and phones, and review the pictures on my ipad that I took that day and then share them if I chose to.
For $50, it's a great value for what I need. Give it a shot!