Recently, I was bemoaning the woes with my HP laptop. When my laptop is running – I love it. However, my HP Envy 17 tends to get very hot. This heat, in turn, heats up the disk controller making it not recognize my boot drive.  So if I have to do a couple of reboots, it may decide to brick itself until it's cool enough to work again.
I've sent my HP in to get it serviced. That didn't solve it, obviously.
So, I tweeted a bit of free advice to anyone to avoid HP.  Basically, it's my only way of giving HP the finger for the mistake I made, but sometimes I just get pissed off.
Now, if you put a gun to my head and ask me what brand of enterprise server I'd recommend? HP all the way.  Other than that – not so much.
Of course, my tweet lands on Facebook and I'm immediately told I should buy a MacBook. As I replied, been there; done that. In face, I bought my first Apple computer in 1985. My bulky Apple IIe had (*gasp*) expansion slots.  The Lisa was a hulking machine the size of a beer fridge in the corner with an 8 inch screen at the Apple store.
Since it's incomprehensible to some people that I actually do not prefer Macs; I had to beat back the zealots off the front porch and get that out of the way.  I've owned the absolute top of the line MacBook Pro and frankly, the novelty wore off after a few months.
Then, a distant friend asked an extremely good question. She asked:
So if you don't want to spend 2K for a Mac what is the next best thing? Macs are great but pretty expensive on a grad student's budget.
Well, Jennifer, I thought I'd post this up just in case someone else was asking the same thing.  So here's some free consulting.
First – if you like Macs, you can get a great deal on a Mac online or used.  If you're buying a used Mac off Craigslist or something – I recommend making an appointment to meet the seller at a mac store and have a Mac genius (their customer service rep) make sure the laptop is in good working order.  You can get a new MacBook for around $1000, if that's within your budget. Be careful when buying a used MacBook that you don't buy an extremely old one that has the PowerPC CPU. Make sure it has an Intel CPU.
If you prefer Windows because you like Microsoft Office, if I may make a strong suggestion to you. Try Office alternatives, like LibreOffice. Try it, you have nothing to lose because it is FREE. It produces documents compatible with Microsoft Office, also. So if your professor says he wants documents in Microsoft Word format, you can accomplish this with LibreOffice.
You can run LibreOffice on the Mac, also.
Down to the nuts and bolts, though.
Squaretrade recently released a study on laptop reliability. They analyzed failure rates for over 30,000 new laptops and studied the failure rate over three years.
Here's a chart from the study: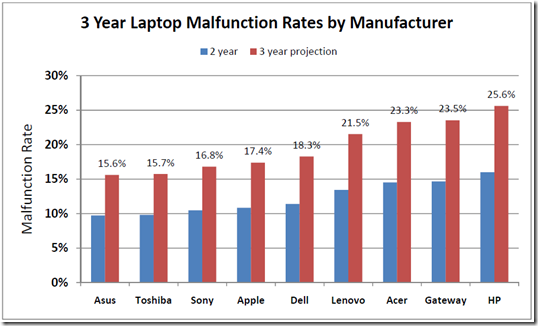 You may not have heard of Asus, but they've been around a very long time. Back in the pre-Internet days, Asus made some of the best "clone PC" components you could buy.  I first encountered Asus because they made a very reliable, relatively inexpensive 3.5" floppy drive.
Asus makes what I like to call "high value" laptops. Not cheap, because there is always less expensive. High value because their pricing is good and based on this study, they're very reliable. These are important factors if your shopping for a deal on a laptop.
As well, you could buy a netbook. A netbook may work for you – but you should go to a computer retailer and work with one before ordering one online; or borrow one from a friend. They're traditionally very small and underpowered for anything other than browsing the web, checking email, or watching an occasional you tube video.  One major plus is their weight. Netbooks are ultra-portable. So if the miniature keyboard isn't a deal killer for you, maybe it'd work for you!
So, we come to the Asus laptops.  They come in many shapes and sizes. In fact, a friend of mine recently bought a new Asus laptop that he tricked out with 16GB of RAM and dual SSD hard drives in Raid 0! It was expensive and extremely fast. However, those specifications are unattainable in the MacBook Pro world.
Most of the time, though, our measuring stick for a new laptop is our budget.
I'm not taking into consideration if the laptop comes with Microsoft Office. If you are a student, you can get a student edition at a huge discount. If you are not, I recommend trying LibreOffice first. Then if you still want Microsoft Office, don't buy it bundled with a laptop because if you do, you can only use that copy of Office with that computer. If you spend the extra money and buy office separately, if you upgrade your computer you can legally install your copy on your new computer. Never mind you can buy upgrade editions moving forward.
To get the best deal on a laptop, you almost always have to go online. However, you also might want to think about what happens if something goes wrong? Buying a laptop from Walmart isn't necessarily a bad idea if they're the only retailer where you live. They have a liberal exchange policy. So paying a little extra for a laptop from Walmart.com may pay off if you have an issue. Remember to put a good backup plan in place (see the end of this post).  Knowing ahead of time what to do and what to expect if something goes wrong with your laptop will spare you a lot of frustration and panic.  If you know you have a good backup and take your laptop into a local retailer and swap it out, that should provide some comfort. If you know you're going to have to ship your laptop somewhere and it's going to take a week to get it back, that also should help calm the situation.  Know ahead of time what the repair experience will be like as best you can. This is extremely important regardless of what computer you buy. Some questions to ask:
How long is my warranty?
What does my warranty cover?
If my computer has a hardware problem, how quickly can it be repaired?
Will the reseller / retailer swap my laptop out for a new one if it breaks?
What is the exchange policy for my laptop?
Can I upgrade my laptop in the future to extend its life?
So broken down into three budget groups, here are some suggestions. (Amazon links use my affiliate information, so if you buy from Amazon I'd sure appreciate it if you used one of these links to do so).
Around $500.00
For around $630.00, you can get an Asus laptop on Amazon.com. It weighs 8.4 pounds and has an Intel i5 CPU (which is a current generation of CPU). It comes with 4 GB of RAM, can play back 720p HD content. It has HDMI out so you can use an HDTV in house as a big monitor if you need one. It's screen is only 15.6" in size, so it is on the small size.  It has built in wireless so you can use it at your favorite coffee shop, a built in webcam for chatting with family or embedding video into a presentation, and a 4 in 1 media card reader so you can get files off your digital camera.
As a nice to have, it comes with a Blu-ray drive. So you can watch movies on Blu-ray discs when traveling or read Blu-ray data discs. The disk is also a CD Burner so you can use it for backing up your data.
This is the a great, bang for the buck, laptop.
For around $400.00
you can get this Asus laptop.  It comes with an old processor / cpu (Pentium Dual-Core 2.13Ghz). It has 4GB of RAM, a 320GB Hard drive, a DVD Burner, and Windows 7.  Not bad for the price.  The extra couple hundred bucks for the previous laptop will buy you much more performance and life. This laptop may last you a while but because it is based on older technology.  You may be wishing you'd spend the extra money in a year or two.
This one is similar and lists for $550
. It has a faster CPU and more disk space. It also is a 15.6" display.  It comes with "palm proof" technology which knows if your palm accidentally hits the touch pad and thus prevents the cursor from moving while typing. If you do a lot of typing on the go, this would be a huge plus.
Around $1000
If you have a budget in this range, you could consider a MacBook (see above). You can get a MacBook for $999.00 at Apple's online store. It's got great specs, would make a great laptop for almost anyone!   Know where your nearest Apple retailer is in case you have problems. If your MacBook has an issue, you should go to Apple to get it fixed.  Here is the Apple service FAQ.
If not, here's a nice model in this budget range from ASUS.
For $998.00 at Walmart.com, you can get your hands on a very nice Asus laptop.  This same laptop is $1061.79 at amazon.com.
. This is an extremely capable laptop for the money.  It comes with an Intel i7 CPU (Current Generation & higher end), a 750 GB hard drive, a USB 3.0 port (which is very fast so very good for backing up data), Bluetooth, a 5 in 1 card reader, and wifi.  It also comes with video editing software which might be good for presentations or doing a video from your last vacation. It doesn't have Blue-Ray, if that's important to you.
Around $1500
If you want to spend the money, here's a $1647.00 Asus laptop with loads of horsepower, features, and bang for the buck.  It's the most popular Asus laptop on Google Shopping.  All the CPU you need, 1TB of hybrid HDD/SSD storage (1000 GB), 3D Graphics card, 8GB of memory, Blu-ray, and a 17.3 inch screen. It's big. It's fast. It's heavy. A similarly equipped MacBook Pro would be over $2500 ($2699.00 to be exact).
This would replace a desktop computer.
BACKUP YOUR DATA
Backing up your data is *always* a good idea. It's doubly so when buying bargain priced laptops. Anything can happen, even with the most reliable of laptops.
Hands down – head and shoulders, my recommendation is CrashPlan. Yes, that's an affiliate link, too. I use it myself. It works. It's stable and doesn't drag down my PC. It works on Server OSs. They have a business version if you own a business and are looking for an off-site backup solution.
Crashplan works with Windows, Macs, and Linux.
First of all, it's free to backup to your friends or family or to an external hard drive. The idea is you let your friend backup to your computer and you backup to theirs. Or, if you have two computers, have them backup to each other. That's not what I do, though. I use CrashPlan Family Unlimited.  For $120.00 a year, you can backup EVERYTHING for up to 10 computers online. Unlimited storage – for the *entire family*. They don't have to all live in the same home, either.
Worst case, spend a little money to buy an external USB hard drive and backup your data to that every night or whatever makes sense for you. You can setup CrashPlan to backup to the USB HD every night, and it will try. If you turn off the computer or don't plug in the drive, it won't back up. But this way, when you want a backup, all you need to do is leave the computer on overnight with your external hard drive plugged in.
It'll protect you if your computer crashes or the HDD stops working; but if you have an event that destroys your home your data could be lost forever. So you might want to consider buying online storage or backing up to a friend you trust.
Hope this helps someone, good luck and enjoy your new laptop!