I've been running some ad campaigns for Dream Player. However, I think I'll try a different approach over the next few weeks.  Rather than advertise on Facebook and Google, maybe someone would like a free Android device. Why not?  Nothing ventured nothing gained.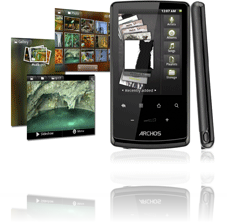 I'm going to give away an Archos 28 Internet tablet.  Keep reading to find how why I might just give it to you.
The Archos 28 Internet tablet is an WiFi connected handheld tablet. It isn't meant to be an iPad or a Galaxy Tab.
Although Archos markets this as a Tablet, it's really just a PMP.
It's a small 9mm thick Android based device with a 2.8 inch screen. You can listen to music, surf the web, or install Applications from the Archos application store.  It also has a feature to stream media directly from your PC.
I'm going to pick someone totally at Random. I'm not going to gather information on anyone and sell it, nor am I going to send out spam.  It's an experiment – If this works, this is how I'll do future marketing. Frankly – I'd rather give stuff away to people than pay for ads. It's more fun and it seems like it'll take up less of my time.
Good luck. I hope this works better than paying for ads!  Read the rules – it's a two step process. It's the best I could come with. I'm not a lawyer.
Here's how to play – First, do one or more of the following
1) Tweet the following:
inzi.com Dream Player for Android http://goo.gl/T5KXb – I want the free inzi gadget http://goo.gl/1dsNa. #inzigadget
2) Post to the inzi.com Facebook wall:
This is the inzi.com Facebook page: http://www.facebook.com/pages/inzicom/158853210836513
inzi.com Dream Player for Android http://goo.gl/T5KXb – I want the free inzi gadget. http://inzi.com
3) Post something, anything, on your blog about Dream Player. It doesn't have be a review, it doesn't have to be positive. It just needs to meet these conditions:
Link to http://goo.gl/T5KXb 
Link to http://inzi.com.
Have the phrases "Dream Player for Android" and "I want the free inzi gadget." in the post.
Then you must do the following:
I need to be able to get in touch with you so….
An email must be sent to gadget@inzi.com before 1:00 AM CST May 25, 2011. The email rely-to address must be valid. If you want, you can put your location in the email. "Dallas, TX", "Antarctica", or "Seattle, Wa".  Make sure you send it from an email account you check regularly, or add a reminder to check that mailbox on May 25th.
Include a link to the blog, tweet, or your Facebook name & time/date you wrote on the wall
Emails with attachments are automatically deleted.
Emails with a different subject are automatically deleted.
When?
On May 25th, 2011 between Noon and 3PM CST – I'll take all the email addresses and put them in an spreadsheet in no particular order. Then I'll go to Random.org and generate a random number to pick a row. I'll email the lucky person and I'll put up a blog post linking to the tweet or blog post. If it's on the Facebook wall I will message you there.
Some rules.
I feel like I have to say these. There are evil people in the world.
First, you must be 18 years old or older.  Sorry Kids, maybe next time. If you aren't 18, don't enter. Get your parents to enter on your behalf. It'll be easier.
Not everyone will win. Only one person, chosen by me, according to my arbitrary rules. It won't be a family member or someone associated with inzi.com.  But I get to choose the winner by whatever means I determine. However stupid, silly, incorrect, or ignorant they may appear to you.
Only one entry per person
If your email is deleted, your entry is null and void.  I reserve the right to void any entry for any reason whatsoever.
I reserve the right to change the rules, conditions, etc. at any time.
I reserve the right to exclude anyone for any reason.
I reserve the rights to change the rules at any time for any reason.
You must live in the United States. (Sorry, I wouldn't have a clue on how to do this internationally).  I'll only ship the tablet to a US address.
If you win, I get to post your name and some information about you on inzi.com and on the facebook wall page.  I won't share your information – but I would like to be able to say "we gave Jane Doe from Jupiter's 3rd moon a tablet!"
If you win, I'll email you by replying to your email to gadget@inzi.com. You *must* respond to me within 24 hours to confirm you are a real person.  So make sure you check your mail and your spam quarantine on May 25th.  If you do NOT respond I'll select someone else.  Auto-responders don't count.  Once we've established you won and you're human – you tell me where to ship it and I'll send it out and send you the tracking number.
If something is wrong with it, talk to Archos. Not me. I write apps, not fix devices.
I'll put up a blog post that day detailing the goings on and a special word or phrase for the subject line so the email will be easy to find. That way, you can whitelist the word or phrase or easily search your email for it.
By emailing me, you agree to receive emails from me. You agree to release me from any liability. You agree that you are over 18. You agree that you won't sue me for any reason related to this. If anything about this is illegal in your state, then you can't play and your entry will be deleted.