Today's news scroll just feels soft to me.  There are iPhone rumors, developers griping about Android "fragmentation", and Google ponying up almost $1 Billion in a bid for Nortel's patent portfolio.
As far as the iPhone 5 goes, it's coming. We all know it's coming. It's going to be for sale at some point before many of us die.  We know that it will have upgraded features over the last one.  Will its upgraded features be vastly superior to other phones on the market? We'll have to wait and see, but I doubt it.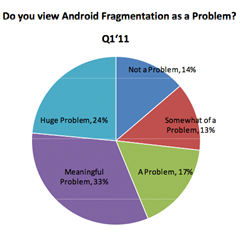 I wrote about Android Fragmentation being a bunch of FUD. Seems I must be in the minority on that one.  According to a report, 56% of Android developers said that fragmentation was a meaningful or "huge" problem. This is an increase over the past three months.
Maybe it is because I have done mobile development for so long, but to me fragmentation means serious discrepancies in implementation and capabilities. 
However, in the today's world, fragmentation is coming to mean numerous versions deployed in the wild, and the subtle differences between them. If the world had given a quarter of this amount of attention to J2ME fragmentation, Sun might not be in Oracle's deathly grip.
Well, here's where we stand today with Android. Android 2.2 dominates. If you target 2.1 or higher, you cover 92.88% of the market (excluding 3.0).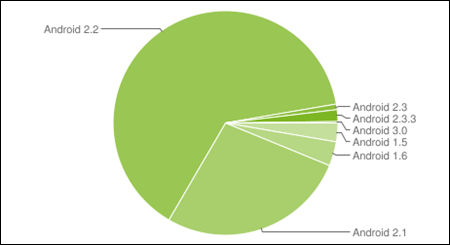 Interestingly, check out these charts from Chitika.  This data is older and we'll probably not be able to find this data going forward since it is now prohibited to gather this type of data. Compare the charts to the ones above and you'll see some serious consolidation going on.  Perhaps the reason the Apple SDK prohibits gathering this type of data is it would take the fragmentation argument off the table?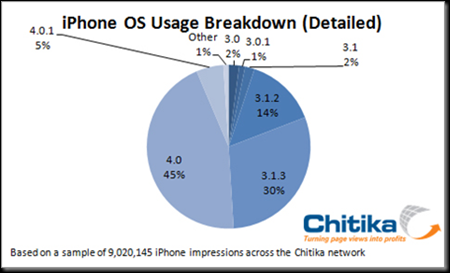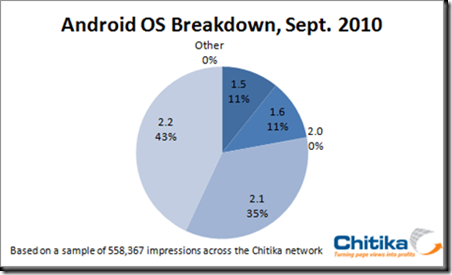 Lastly, Google is bidding almost $900,000,000 for the patent portfolio of Nextel. I hope they get it. There may be patents in there to silence all this crap about Android patent violations. Additionally, Nextel holds some juicy patents on LTE.
The patent system is horribly broken due to abuses and various other factors. It is in desperate need of an overhaul.  Did you know that Google does not even rank the top 50 US companies that filed patents in 2010?