For a while Samsung has been teasing us all with the 78910 tagline for its unboxing yesterday. There was a lot of speculation about what it meant, but the general consensus was that it stood for a 7", 8.9", and 10" tablet lineup.  That turned out to be right.
On a side note, did you notice that Apple announced yesterday that the iPhone 5 will be coming this spring?  Apple marketing at its best, as usual. They not only try and steal some of Samsung's thunder, but they try and change the dialog altogether to be about phones again, not tablets.  They did it for a good reason too. Samsung announced Android 3.0 based tablets that compete head to head with the iPad on tech specs, price, and user experience.
Although Samsung announced a 10.1" and an 8.9" tablet yesterday, I want to focus on the 8.9 because I think it's just the right size. I could be wrong, but I think this will be the one that will match up most effectively with other tablets in the market.
The Samsung Galaxy Tab 8.9" sports:
Honeycomb (Android 3.0)
8.9" Wide Display (1280×800)
Dual Core CPU (1Ghz)
HSPA+
HSPA+ is like 3G on Steroids.  T-Mobile (aka ATT) recently announced a rollout of HSPA+. 
HSPA+'s theoretical speed limit is 84 Mbps down and 22 Mbps up. No, this is not 4G. This is the next evolution of 3G. HSPA+ is defined in 3GPP release 7 and above.  You can find more information about this on Wikipedia.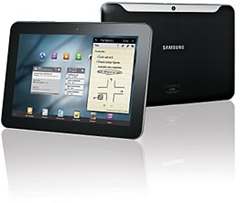 Of course it will have dual cameras, what self respecting tablet manufacturer wouldn't in today's market? The rear camera is a 3.0 megapixel camera with LED Flash and auto-focus.  The front is a 2.0 megapixel camera.  It supports HD Video codecs (MPEG4/ H263/H264) and DivX/Xvid. It offers full 1080P Video playback at 30fps. Lastly, a plethora of audio format support (MP3, AAC, AAC+, eAAC+, OGG, MIDI, AMR-NW/WB that can be heard through the standard 3.5 mm headphone jack.
The killer feature: Expandable Storage
My favorite feature of this tablet? Samsung added a microSD slot with support for up to 32GB cards. Look around, not many of the new tablets have expandable storage.
This is so important, especially with Honeycomb. You see, Android 2.2 lets apps be moved / installed to the SD card.  So games, movies, soundtracks, and other stuff you use only occasionally can be kept on tiny microSD cards and inserted when you need / want them.  Someone who travels a lot could have their entire DVD library with them when they travel, for example.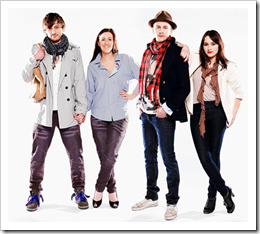 If someone argues that that's just silly because they can get WiFi or 3G where they're going, then so be it. I, however, don't always go to the land of Starbucks and 4G. Sometimes, I'm a little off the beaten path where hipsters are not only never seen but where if people saw one they wouldn't know to call them a hipster.
No, there is NOT connectivity everywhere. Go camping or something for heaven's sake.
To me, this feature is noticeably absent from the iPad 2 and other front running tablets. By locking you into their storage limits, the manufacturers get to charge you a premium for higher capacity models. Secondly, they get to add ancillary cloud based storage to the monthly cost of owning their tablet (should you want / need more storage, obviously).  Or worse, make you connect it to your computer to back it up. Really? This is 2011, isn't it?
Don't buy tablets without microSD, folks. If we do, we're going to shoot ourselves in our collective feet.
Thin and light, if you care
If you could buy these right now, they'd be the thinnest on the market.
Coming in a 8.6mm thick, these are the latest salvo of making tablets so thin than soon I'm going to be afraid to pick them up!
But yes, that's a whole .2mm thinner than the iPad 2. That's such a minute difference, I don't think anyone will notice.  However, fan boys on both sides will rage in the newsgroups. Good luck trying to get your questions answered for a while. This is war. We live in the age of brand worship.
One thing I do care about more then thickness is weight. The 10.1 weights 595 grams while the 8.9 weights 470 grams.  Interestingly that means both of these models are lighter than the iPad 2, which comes in around 600 grams.
It is no longer about the specs, Apple got their wish.
So we have all these specs to drool over. However, in the words of Ruby Rod from The 5th Element, who cares?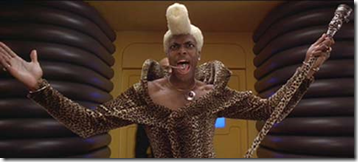 You can find the specs to these tablets everywhere. Here's the bottom line:
The iPad 2 is the benchmark and the standard to which all tablet newcomers will be compared.
The Samsung tablets are thinner and lighter than the Apple iPad 2.  Samsung claims a 10 hour battery life which is on par with the iPad 2. Samsung has announced retail pricing that is directly competitive with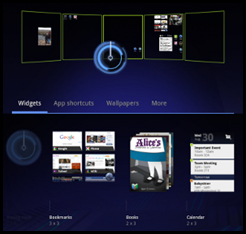 the iPad 2.
However, Samsung doesn't have the same tight controls on their reseller channel as Apple does. This means you may
see some great pricing on an ultra-thin tablet.
These tablets will be running Honeycomb (Android 3.0).  This is going to mean a very rich user experience.  It was designed from the ground up to be tablet ready.
What all this means is the Android tablets are catching up with the Apple tablets faster than the phones caught up with the iPhone. 
With such a war waging between manufacturers and platforms, we the customer stand to benefit the most.  This, my friends, is what competition in the marketplace is all about!