Well, the reports are coming in and the iPad 2 seems to have some killer graphics capabilities.  Although it had no drastic improvements over the original iPad, it's a full 3rd thinner and a little lighter.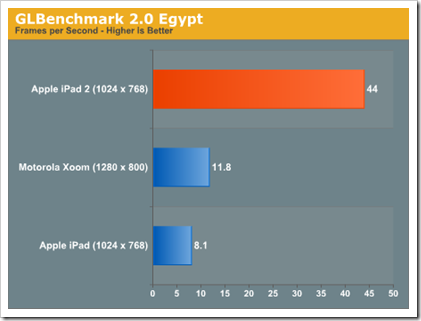 One thing that's really impressive about the iPad 2 is the reported graphics benchmarks. Our friends at AnandTech have done some deep analysis and as you can see, the iPad 2's GPU capability are vastly improved.  This chart represents running a benchmark with anti-aliasing turned off. Anti-aliasing makes graphics look better by softening the edges, thus making the image more appealing and realistic.  Without the anti-aliasing (AA) turned on, the iPad2 is 5.4 times faster than the original iPad, and 3.7 times the speed of the Xoom. With AA enabled, the iPad 2 is 7 times faster than the original iPad. Click the image to read their analysis.
iSuppli did a full teardown and the shiney new iPad 2 (32GB 3G version) that sells for $729. That unit costs about $336.50 to make.  They gave All Things Digital some info and they posted it on their site.
Not all is good in happy Apple good-good super friendly land.  Seems some people aren't really digging the cameras along with a few other complaints.  After see a few comments and I decided to Google ipad2 cameras suck to see how big of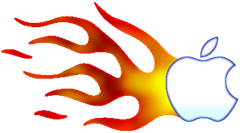 a deal it is.
1,190,000 as I'm writing this, 1,190,001 after I post this. Replacing ipad2 with ipad<space>2 resulted in 1.560M results.
I'm sure they'll be improved in the iPad 3.
Good news from Engadget, also. The iPad 2 has been jail-broken, but no ETA on the public release.
The iPad 2 is certainly a hot commodity!  Also, I *totally* called it. You don't want to be seen at SXSW without an iPad 2. Apple is crashing the event by opening a temporary store.  The press is going bananas, as usual. 
If Google is an advertising company, and Microsoft is a.. well, I don't know what Microsoft is anymore, then Apple is a marketing company.  The differences couldn't be more stark, and the Apple marketing machine has another coup on its hands.