I used to have an HTC Mogul phone. It was windows based and I loved the attention to detail HTC made when it came to UI design.  Things like a windshield wiper when weather said it was raining, or lazy clouds drifting in front of the sun or moon.  One thing that drove me nuts was the clock, though; how it would slowly flip the hour and minutes before showing the correct time.  Too many times, I would power it up and glance at the time twice before realizing what was going on.  HTC isn't perfect, but they have always impressed me with their user experience.
Well, HTC's Flyer tablet is coming, and it looks like its going to be a seriously cool device.
This tablet looks seriously fun, seriously innovative, and seriously worthy of some its pre-release hype.  Numerous sites are reporting there are already over 1M Flyers ordered.  It has features that would have been welcome on the iPad2.  Maybe the Apple will leapfrog everyone else with the iPad3.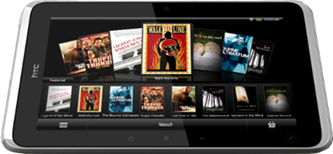 However, this is the HTC Flyer and it looks like so much fun.
It weighs in @ 420 Grams (14.82 ounces) with battery. It sports a 7" screen (1024×600) resolution.
It's Android based with HTC Sense on top of it. This means if you like Sense, you might have to wait for Android updates lest they break your UI.  HTC is good about updates, though.
It sports a 5 megapixel rear camera and 1.3 megapixel front camera as well as a compass, G-Sensor, Wifi, Bluetooth 3.0 w/ A2DP, and GPS.
It comes with 32GB of internal storage and a GB of RAM, and it has a microSD expansion slot (SD 2.0 compatible). That means up to 32GB of swappable SD storage.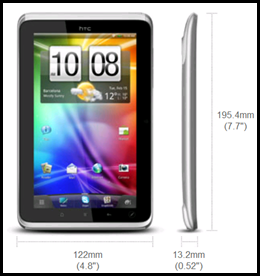 The HTC Flyer also has a standard micro-USB port, but I've not found anything about any limitations of usage.  I hope we can attach a keyboard and mouse!
It's about a half an inch (.52" to be specific) thick, meaning its around 5mm thicker than the iPad 2.  The iPad 2 is very slim, perhaps the biggest feature it sports.
With the 7 inch screen, it enters the ring 4.8" wide and 7.7" tall.
The CPU is reported to be based on a Qualcomm Snapdragon processor. The MSM8255 is a single core CPU, which is disappointing, but hopefully with the the built in Adreno GPU the lack of a 2nd core won't be quite so obvious.  I wish it had a dual core CPU, but it is coming with Android 2.3 (not 3.0).  We'll have to wait and see.  The Adreno has a reputation for eye-popping 3D graphics, so there is some pedigree here.
Early specs speak to HDMI out as well and DLNA.
Combine those with the Flyer's OnLive support and gaming tablet niche is about to get pwned.  This tablet may have the PSP squarely in its sites, as well as some rarely used consoles collecting dust in living rooms everywhere.
Then there's the HTC Magic Pen.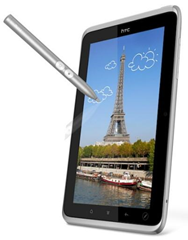 Is this old school or something new?  It's a pen (aka stylus) that you use to draw, paint, and write with on the tablet. It can also work as a highlighter. Basically, if it's on the screen, the HTC Scribe app + Magic Pen means you can notate, collate, and otherwise pretty much draw on with the data as you see fit.
It is being said the stylus will enhance the use of the tablet by letting the user use tools like evernote and making notes in e-books.  One thing is that it supposedly knows when your hand is on the screen when you're drawing (See Video Below).
Pens and tablets aren't anything new, but it seems like HTC may have come across an elegant way to re-introduce this technology.  As someone who has been lingering on the graphics tablet isle because I would like the ability to freehand some graphics and UI elements, I'm extremely intrigued. Tablets are normally great for data consumption, not creation.
Here's the pen in action:
Of course, it's got 3G connectivity.  WCDMA and HSPA and Quad-band GSM/GPRS/EDGE.  That pretty much covers everything.
All I can say is I hope the Flyer is not too expensive. Early indicators are that that its going to be a pricy tablet.
I'd certainly take one!