EXTRA! EXTRA! READ ALL ABOUT IT
Ok, it's official – the Verizon iPhone is coming.  AT&T's exclusivity deal is over, and after bitching and moaning about how crappy AT&T service is, all the iPhone users can take their business to Verizon.
Will this be the saving grace of the iPhone? Time will tell. Verizon's network is being propped up by many an iPhone fan as the salvation network.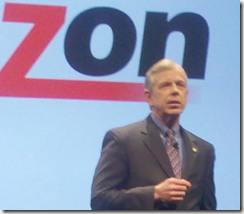 Frankly, I'm not buying it. I know people with Verizon phones and they have their issues also.  This will be fun to watch though.
A lot of sites blogged live from the event.  Lowell McAdam dropped the expected bombshell at 11:02AM.  So we'll see how it shakes out!