Maybe it's just me, but I don't like the iPhone on-screen keyboard.  I get absolutely venomous at the blackberry keyboard, also. So call me the mobile-input tyrant. Personally, I'm very picky when it comes to input mechanism.
I currently have an HTC hero with Sprint. I like the phone and the slide out keyboard.  It's based on windows mobile. It has some cool features but the phone feels sluggish.
Well, I found this on think-geek. It's a iPhone case with a keyboard.  Pretty simple idea.
There are two models depending on which iPhone you have.  I think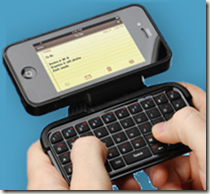 it uses Bluetooth. I bought some as gifts for the holidays. They feel very light and its not obvious to me how to connect them.
It fits the phone like a case and the keyboard doesn't slide out, it swings out. 
So, if you're on that commuter flight and need to crank some emails but don't feel like digging your laptop out – maybe pull the case out of the side pocket, snap your iPhone in it, and catch up on all those emails while you're in the air.
I'm sure all your friends and co-workers will appreciate the touchdown spam and be astounded by your iPhone input prowess!