Traditionally, Apple has stolen a lot of thunder from competitors by releasing their products before trade shows and conventions. Then, during the opening days of the convention, throwing juicy sales figures onto the PR wire to steal headlines.  The press are in overdrive anyway, and when this meat gets thrown into the frenzy it gives reporters something to use to contrast, compare, and analyze. It's brilliant really.
I don't want to take anything away from the tragedy of the earthquake in Japan, but today is the official first day of iPad availability.
Remember the mob scene for the iPhone 4? Remember some random local person grabbing 15 minutes of fame by living on the sidewalk outside the Apple store in order to be first in line?  A real world manifestation of "first post"? You decide.
The iPad is not the iPhone, so it's not a fair comparison when it comes to actual market demand.  The upfront costs are much higher for the iPad, so the market is smaller.  However, the hyperbole around tablets has reached a fever pitch.  The Hype machines are in full gear lately.
At the iPad 2 event, Apple proclaimed we are now in the post PC era. Apple proclaimed that they believed it is wrong (with "every fiber of their being") to compare their tablet technology to other tablet technology based on technical specifications (aka, the technology).  Apple is so very, very good and making a product unveiling look and feel like some kind of great discovery.  They personalize the story of the product, and speak to the coolness factor of the experience. It's usually a great story; and one of the most effective and influential sales tactics in the modern era.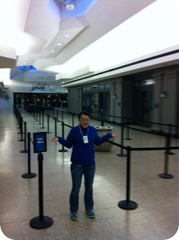 Hype was taken to whole new level with the Verizon iPhone. The Verizon iPhone was heralded as the savior to everything and anything that could possibly put the iPhone in a negative light.  Apple touted 1M phones pre-sold. The ads flooded our TVs with images of anticipation. The countdown was on! OMG, if you weren't in line to get your new Verizon iPhone you were going to be left using that crappy ATT network. It was a new day, a new dawn, a new iPhone for you, and it was going to feel good!
Verizon had people come in early as a stampede of clamoring consumers were expected to overwhelm Verizon retail outlets everywhere.  I don't think it went off as planned or hoped. Maybe it's a great example of how a vocal minority can influence the larger debate.  If the iPhone on ATT sucked so bad, where was the tsunami of customers?
With Verizon, Apple now has another weapon in it's announcement timing quiver.  I think we can expect annual Apple announcement in late February moving forward.
I personally had high hopes that the Verizon iPhone would greatly improve on the ATT iPhone. I would have really helped the rest of us who have to talk to iPhone users who sound like they are yelling at us from inside a duffel bag.  The Verizon iPhone has a similar antenna issue at the ATT iPhone, so I guess not.  Maybe the iPhone manufacturers aren't working enough of their employees to the point of suicide.  Or maybe the antenna engineers were too busy designing the suicide safety nets around the factories in China to address it?  Perhaps Apple's innovation efforts have been less focused on the products themselves and more on finding ways to keep the assembly line workers from successfully killing themselves?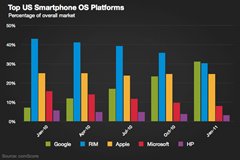 It's not by accident the Verizon iPhone release happened right before the Mobile World Congress in Barcelona.  On opening day of MWC, some noted the absence of an Apple press release touting weekend sales of the iPhone.  The Verizon iPhone launch day was sort of a bust in comparison to the launch of the iPhone 4. Maybe ATT is better at creating a media circus and a consumer frenzy? Or is it something else? Perhaps that iPhone market share growth has just been stagnate lately?
They unveiled their newer, thinner, faster iPad with cameras, and declared 2011 the year of the iPad 2.  A lot of people are very excited about it and can't wait to get theirs and post their impressions on Facebook.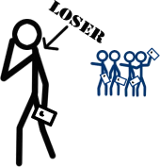 Will some of them have buyer's remorse and post that, too?
It's no accident the iPad 2 is going on sale today, either. South by Southwest (SXSW), the annual music, film, and interactive festival in Austin starts today.  And what self respecting social / Internet nerd wants to be seen at SXSW carrying around an original iPad (shudder)?
The iPad 1 is so 2010…
So this morning I sipped my coffee and looked at the iPad 2 stories under the fold.  Online sales seem to be brisk as delivery dates went from a few days to a few weeks on the Apple online store. A few well timed press releases and artificial shortages are drumming up breathless accounts of continued hysteria. There are a few customers in lines and stories about them and the predictable hype about total Apple's absolute domination of the world of all things mobile.
I think there's going to be a LOT of iPad 1s on craigslist next week.